Day 4 (17 August 2017) – A full day tour
It was technically the last day of our trip in Mongolia as we had an early flight to catch the next morning. Saving the best for last, we would spend the entire day seeing the sights of Mongolia and one of our colleagues Bilguun (Billy) would be our local tour guide for the day. I was really excited to explore the country's famous landmarks and learn even more about its history and culture. I hope you are prepared for more fun facts!
Our first destination was to revisit the Equestrian Square in the morning as part of our tour itinerary. Due to time restriction on the previous day, we could only visit a small part of the complex and now, I had the chance to enter the visitor center and museum. The weather was absolutely perfect for an outing as it was mildly chilly with a gleam of sunlight glazing over the bright blue sky.
On our way to the Equestrian Square, we saw a few of Mongolia's most popular animals stationed nearby a souvenir stall and we decided to stop by and have a look. Seated were two camels while another one stood as if it was putting on a show. The standing camel was so still in its stance that I almost thought it was a statue.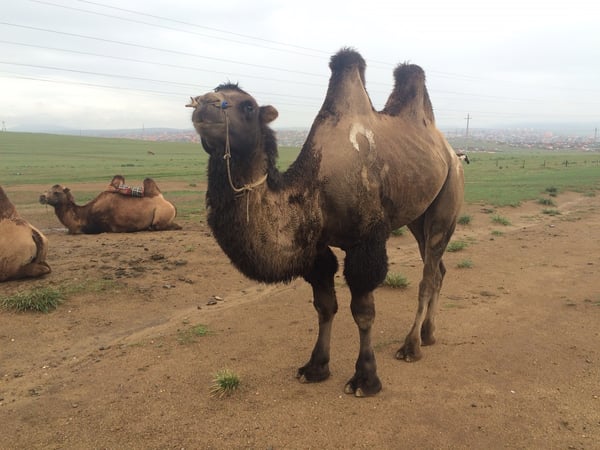 A two-humped Bactrian camel posing for the camera

Fun Fact: While many camels have only one hump, the Bactrian camel, which is prevalent in northwest China and Mongolia have two humps. As camels in central Asia travel through regions where there is more variety in hostile environments (think Gobi desert), it is most likely that the function of the second hump is to store additional water as they have been known to go months without.
Another Fun Fact about Camels: There are two types of Bactarian camels: domesticated and wild. While there are around 1.4 million domesticated camels in Central Asia, the wild Bactarian camel is a critically endangered species and is recognized as the eighth most endangered large mammal in the world.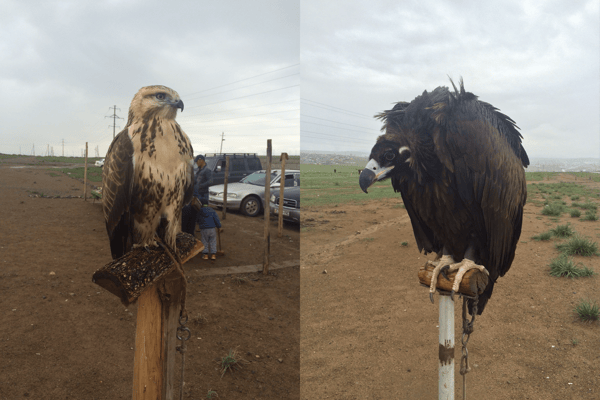 We also saw eagles and vultures on display. According to the owner, an eagle weights around 10kg,
while a vulture is twice as heavy, at 20kg.

We continued our journey and arrived at the complex once again and upon entering the visitor center, I was immediately drawn to a stall that rents traditional Mongolian clothing, also known as deel. I just could not pass up a great opportunity to embody the nomadic tribes in ancient times by wearing their garments. Whilst there was an array of resplendent deels to choose from, there was one that caught my eye and I proceeded to put it on, together with its headwear.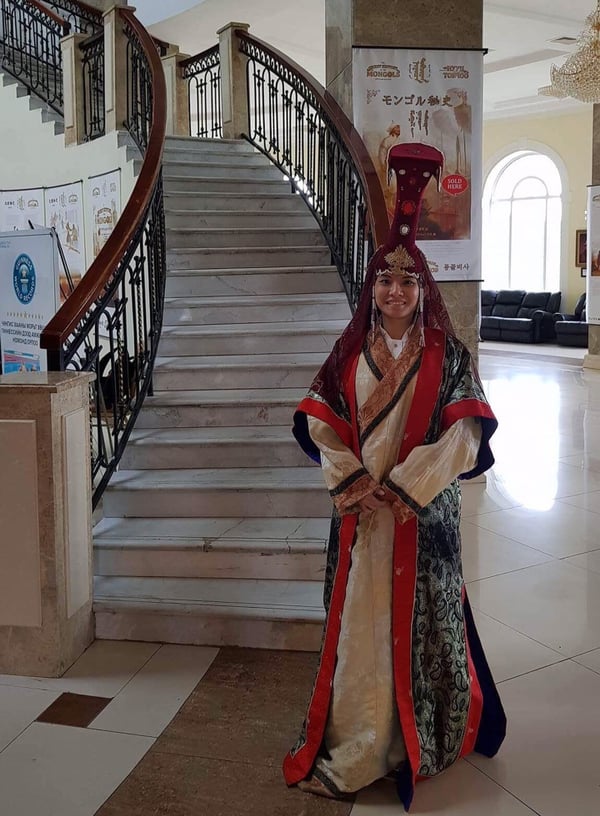 A traditional Mongolian deel and (a slightly tilted) headpiece

The garment was comfortable and warm but the headwear was particularly tricky to wear as it would tilt as soon as I started walking. I cannot picture the people who had to wear this regularly during ancient times as it was quite heavy and I imagine wearing it for long hours must be extremely tiring.
Fun Fact: The inside of the headwear is made of tree barks. While people now no longer wear the hat, the deel clothing is still commonly worn by both men and women, mostly by herders outside of town. Elder people are also seen to wear deels in the urban areas.

Next, we headed downstairs and walked along a corridor that has the pictures of the Khans and a short biography. The museum of Mongol artefacts was truly impressive albeit its size and depicts the history of Mongols and their various conquests. At a corner of the museum holds a hut that was once occupied by the Khans and beside it was a drawing of plots transcribed on an animal skin.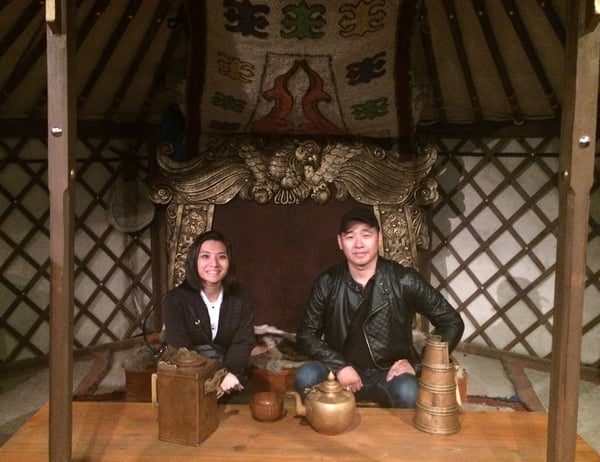 The hut of the Great Khan, pictured with my colleague Billy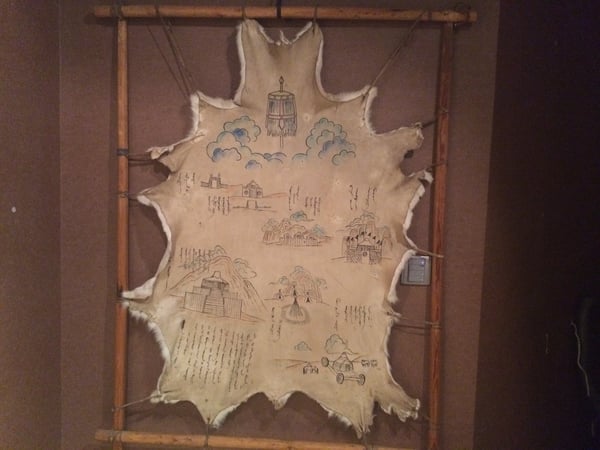 Drawing found on animal skin

After visiting the museum, we headed to the observatory deck which is located on top of the statue for a panoramic view and we climbed about five flights of stairs to reach the saddle of the horseman. It was a breathtaking view of stunning vista surrounding the place. As I was able to take an even closer look at the statue, their engineering was truly remarkable with such intricacy and meticulous details.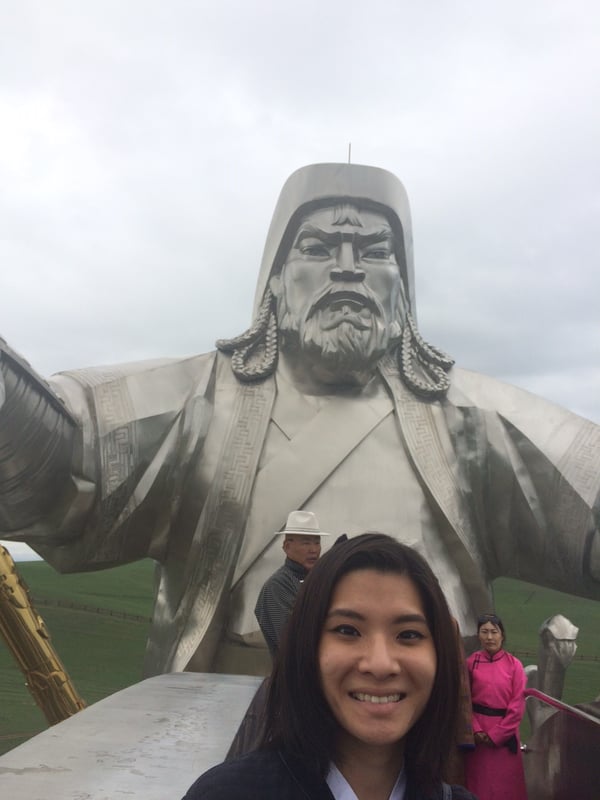 Close up of the Genghis Khan Statue

Next on our itinerary was the Zaisan Memorial, located in the southern part of the city. It was established to commemorate the Soviet soldiers perished in World War II. We climbed three hundred steps to reach the top of the monument and were rewarded with a beautiful panoramic view of the city. Another intriguing feature was a circular memorial painting that illustrates scenes of the relationships between Soviet Union and Mongolia, such as the Soviets support for Mongolia's independence declaration and the defeat of the Japanese army.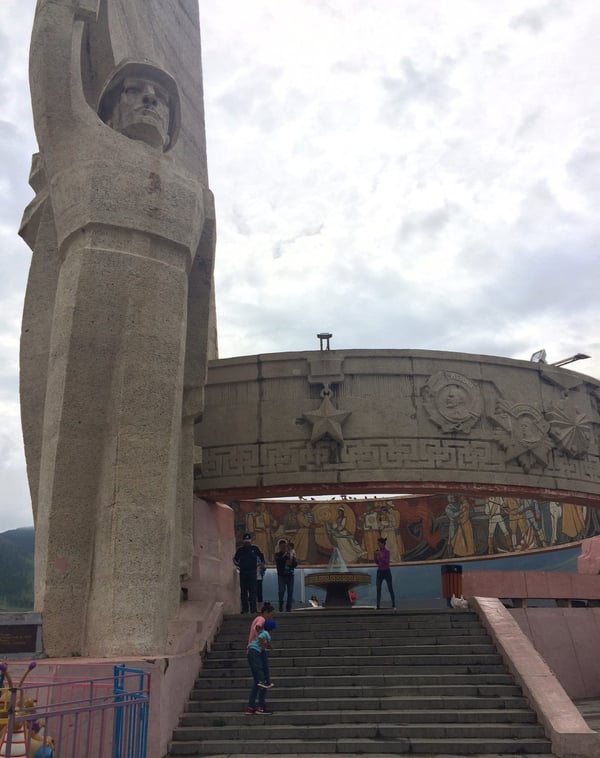 The last flight of stairs leading us to the memorial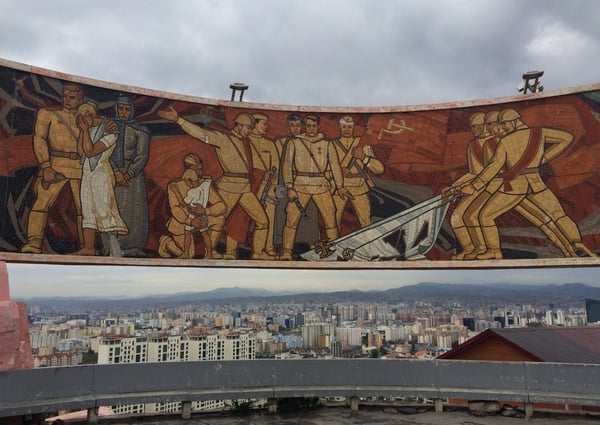 A snippet of the mural of Zaisan memorial
After spending about an hour at the memorial, we headed to our final destination of the day. By this time, the traffic in the city was congested and it took us around an hour just to get to the central square. A center of the square features an equestrian statue of Damdin Sukhbaatar, one of the leaders of Mongolia's 1921 revolution. The square's north side houses a large colonnade monument to Genghis Khan, as well as Ogedei Khan and Kublai Khan in the Government Palace.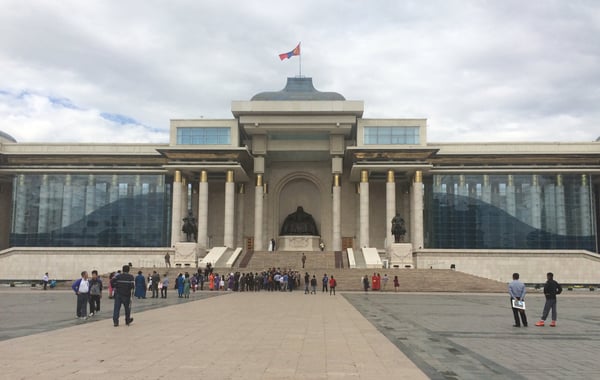 The Government Palace that sits the statues of three great Khans

Fun Fact: The Palace holds various events such as trade shows, corporate and government functions. It is also a popular venue for photo taking. When this picture was taken, there were four wedding sessions happening at the same time.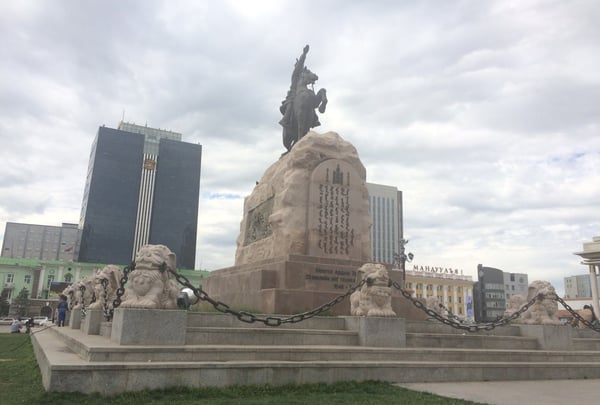 The statue of Damdin Sukhbaatar
We wrapped up our tour with a round of coffee at one of Mongolia's well-known coffee shop franchise- Tom & Toms. Another interesting observation was that the city has a lot of coffee shops as well as karaoke and pub joints. You will be able to see at least one of the establishments within two to three blocks of buildings. After having a caffeine fix, we went back to the hotel to recuperate.
On our last dinner in the city, we headed over to the Grand Khaan Irish Pub, a favorite dining spot for both locals and tourists. Here, I was able to taste one of Mongolian's cuisines called tsuvian, a type of noodle stew with vegetable and meat. It instantly became a favorite dish of mine as I gobbled up this scrumptious meal.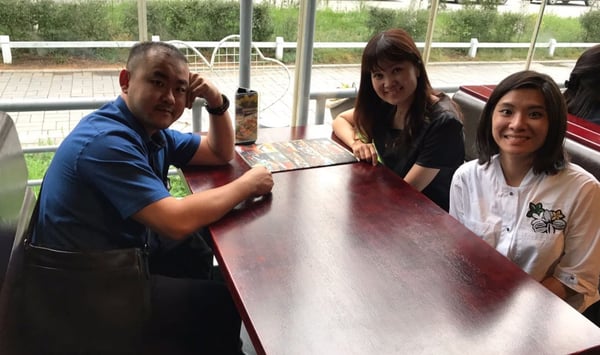 The team having dinner at Grand Khaan Irish Pub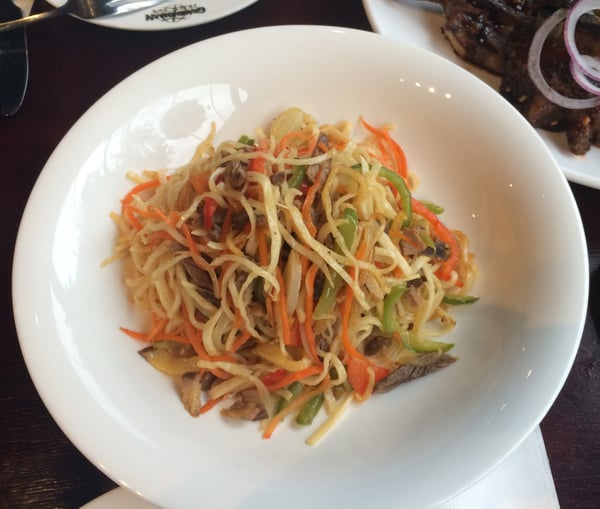 One of Mongolian's classic dishes- Tsuvian


As it was our last night in Mongolia, we wanted to venture out into another venue and decided to walk to Hard Rock Café Ulaanbaatar. I enjoyed the walk as we were able to view the streets through the lens of a pedestrian and experienced life as a local for one day. One observation was that there were no drainage systems on the streets and puddles of water would accumulate whenever there is a downpour. Also, while there are many buildings that are being constructed, many were incomplete and abandoned, which emanated a rustic characteristic. A local led us the way to our destination, and we finally arrived after 40 minutes.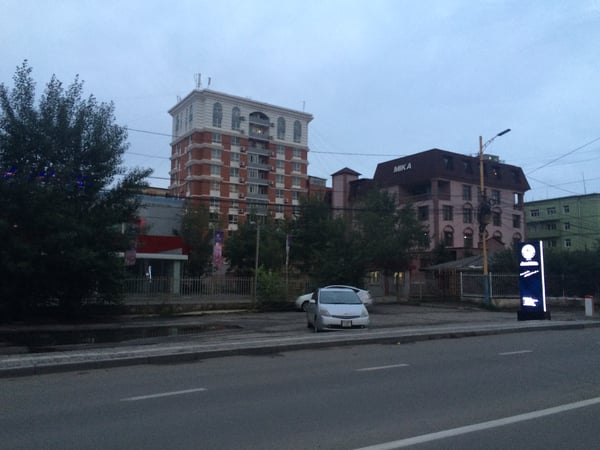 Street view of buildings in the city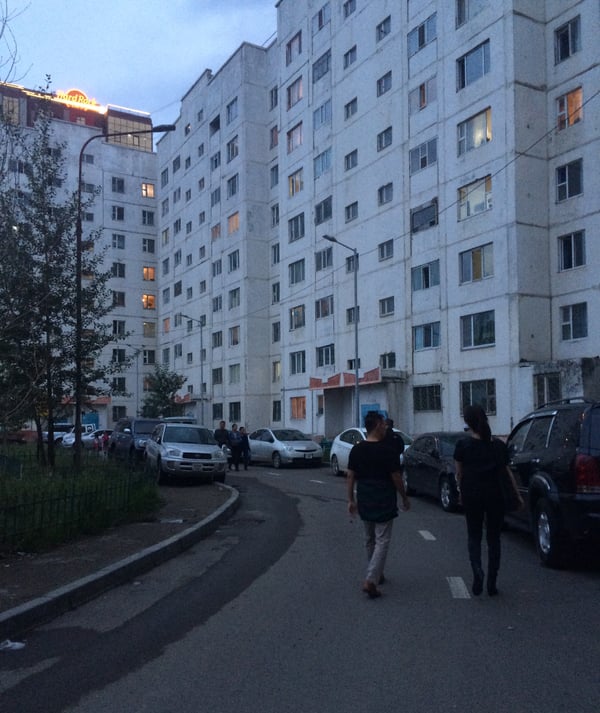 On our way to Hard Rock Cafe: Street view of apartment blocks in Ulaanbaatar
It was a great night of entertainment as we enjoyed the performance of a local rock band and our last night ended on a high note with a surprise show put on by Hard Rock Café's very own staff.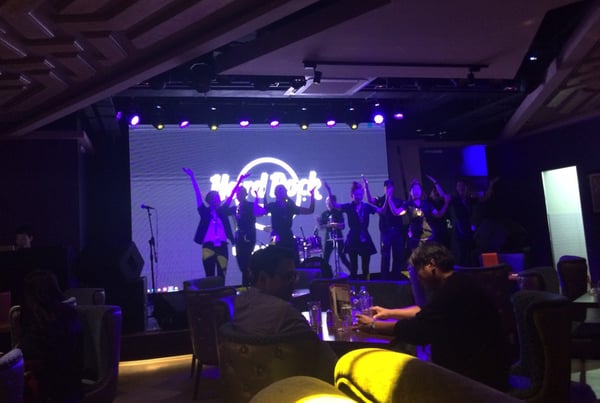 Hard Rock Café staffs performing the classic hit song YMCA by Village People
Day 5 (18/08/2017) - Back to Singapore
In the morning, we bid farewell to the beautiful country and headed to the airport.
Despite a hiccup at the beginning of the trip, overall it was an immensely enjoyable experience and I would love to visit Mongolia again, hopefully I would be more adventurous next time when it comes to food so I will be able to taste some of their exotic dishes.
Being in Mongolia was an invaluable experience as it has also allowed me to know more about their key industries and operation as well as customers' specific needs. I also understood better on how they carry out their businesses as well as learning about their business etiquette. Interacting with our customers face to face has definitely broadened my perspective.
While there were many interesting experiences in Mongolia, I have listed my top 3 most memorable moments:
The surprising discovery that Mongolia still has left hand drive and right hand drive vehicles on the road. Their driving skills must be really solid to be able to drive in the country.
The visit to Chinggis Khaan Equestrian Statue is definitely one of the highlights of the trip. It blows me away with its impressive architecture and fine craftsmanship. I could feel through the statue a sense of glory and pride.
Gers that are so unique and the symbol of the Mongolia. While there is a dedicated districts for gers and they are mostly found around the countryside, they are still seen almost anywhere in the country, even in the most unexpected places such as beside a shopping center.
I would like to thank you for following my journey and I hope that you enjoy every bit of it. Also, a huge thank you to SLS Mongolia team for the warm hospitality.
(Part 1,2 and 3 are under the Related Post section just in case you miss them!)
Please feel free to share any of your thoughts in the comment section below, I would love to hear about your feedback. We welcome you to share any of your experiences with us!
Related posts:
My Journey in Mongolia (Part 1)
My Journey in Mongolia (Part 2)