Since our move to a new headquarter, the bigger premise allows us to host many in-house events and plan outdoor activities. Our very own Recreational Club Committees took the opportunity to utilize this vast space by organizing a special event- the SLS Carnival, a day where our staff would take a break from work and engaged in some fun (and also healthy) activities that not only promote mental and physical well-being but also foster stronger bonds with fellow co-workers.
Sweating it Out with Zumba
The first event of the day was a Zumba workout, a fun exercise that not only keeps your heart rate pumping but also a great stress-reliever and improves your mood. Moreover, it is also an activity that is enjoyed by people of all ages, which is why it was the perfect fitness program for SLS's employees on that day.
The class was taken place at an outdoor space on the second floor that comfortably accommodated all 80 participants. We were also very fortunate to be greeted by dazzling sunshine and a clear blue sky, given that Singapore's weather has been capricious in recent weeks. Fully-dressed up in their workout gear, our participants were ready to kick-start the morning with a Zumba routine.


The class was led by Miss Audrey Rebecca Woodworth, an experienced Zumba fitness instructor who has conducted many classes for corporations and individuals. Audrey brought in a bundle of positive vibes to the stage, with a radiant smile on her face and encouraged all participants to get on their feet. Her enthusiasm was indeed infectious, as each participant was seen giving it their all with their moves and dancing along to the music. The SLS spirit was truly captured in the moment where all staff came together and held hands in unison as the last track played.


The Goodness of SLS Food Carnival

After the fun and intensive workout, all staff was treated to the next event- the Food Carnival. The carnival was held in the event room where food stations were set up by SLS employees from various departments. A Carnival Booth competition also took place where each department competed against each other with their creativity in food preparation and presentation. Each group showed off their excellent cooking skills by preparing home-made food such as vegetarian pasta, herbal eggs, and pistachio biscotti, all of which were made for a healthy meal. One of the food stations made popiahs (spring rolls) on the spot, working laboriously in preparing the food and attracting many visitors to watch the action. Apart from preparing popiahs, fresh fruits and vegetables such as organic tomatoes and corns were also sold and the tomatoes were sold out within 30 minutes. Hard work truly paid off as the Accounts Department, which set up the popiah station emerged as the winner. Also, tucked in a corner was a book station, where donated books like novels, comics and CDs were up for grabs on a "pay-as-you-wish" basis. In other words, visitors pay their desired amount for a book, including zero.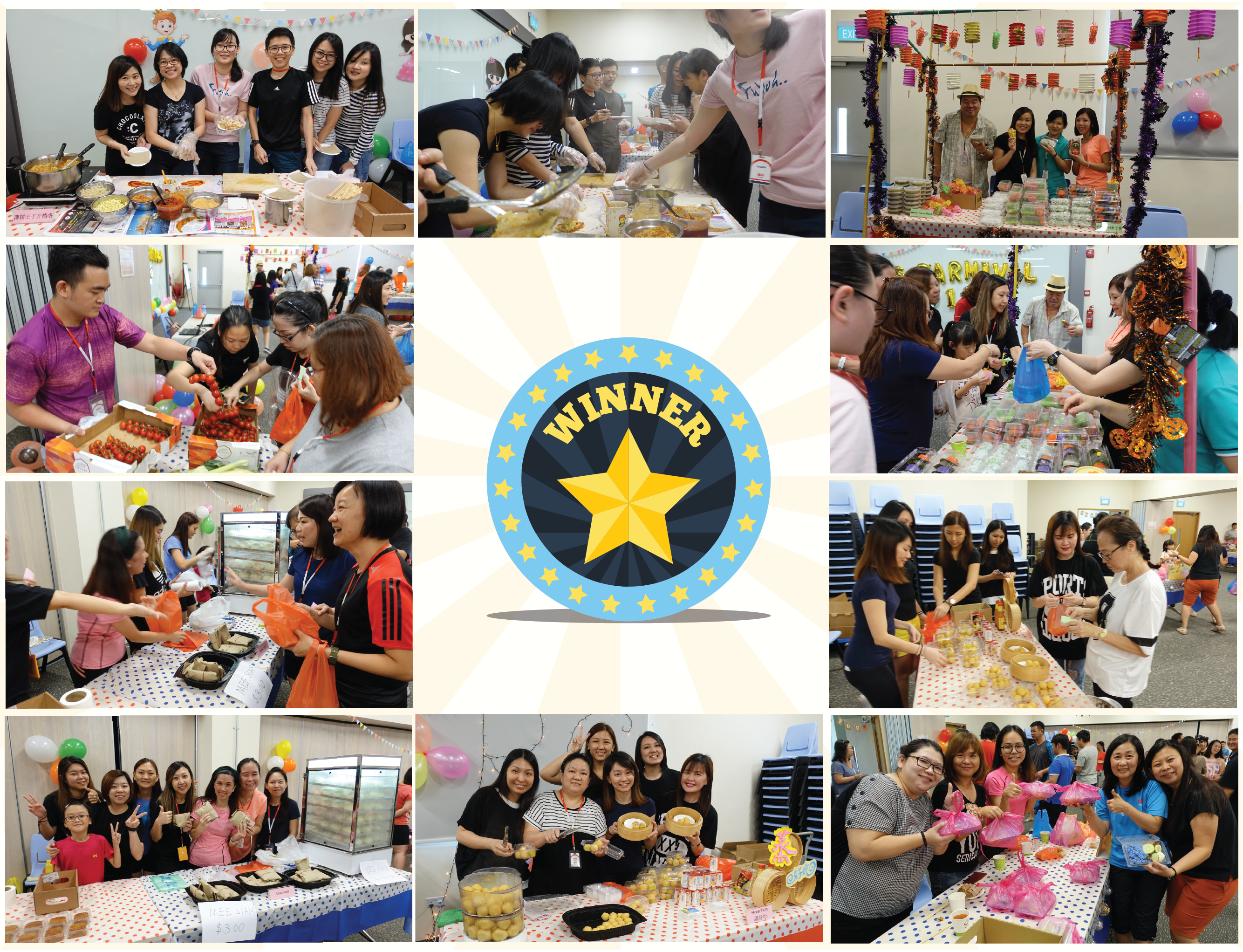 Throughout the day, the exuberant atmosphere of the event room was filled with a chattering crowd and clamoring vendors who were trying to get visitors to purchase their food. Next was the activity everyone was waiting for- Lucky Draw. Each staff was given a lucky draw number upon purchasing coupons for the carnival and stood a chance to win a prize. The Warehouse team was the luckiest winner of the day, claiming 7 of the 10 giveaway prizes.


Giving Back: Supporting a Cause
The event was very successful as smiles were still radiating at the end of the day. What makes it even more special to our staff is that the carnival was also held for a good cause- all proceeds and donations from the event are being donated to the Cerebral Palsy Alliance Singapore (CPAS) and we were very proud to have raised $5,000 dollars for charity. SLS Carnival Day was loaded with so much positive energy and happiness were felt throughout the day as employees were not only feeling good mentally and physically but also feeling good giving back, a wholesome day for all.
We also made a video on that day! Click on the link below to see SLS staff bust a move during the Zumba workout and the delicious food presented at the carnival: