Jurong Innovation District (JID) is a next-generation business hub that offers a unique value proposition for businesses and technology partners. JID is developed by Nanyang Technological University (NTU) and supported by government partnerships. Being Singapore's first District designed with an integrated manufacturing approach, with new advanced testing facilities and urban innovations to serve prospective manufacturers.
The JID is a manufacturing ecosystem with R&D centers, technology partners, training providers, and factories filling its precincts. That means you can work on your current prototype, try out new ideas, and even start manufacturing and distribution all in one location!
JID is ideally located within a 30-minutes drive of significant economic projects such as the Tuas Checkpoint, Woodlands Checkpoint, and Tuas Mega port — JID is connected via the Pan-Island and Kranji Expressway. The District will also be serviced by the future Jurong Region MRT Line, which will connect commuters to the North-South and East-West MRT lines. It is expected to be completed by 2026.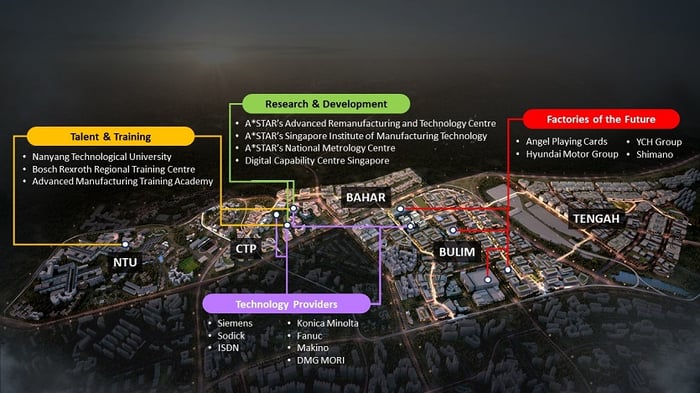 (source: jtc.com)
JID is also a place where businesses and their employees can learn new skills to help them transform. JID helps companies build their future resilience, whether it's through upskilling at the Advanced Manufacturing Training Academy (AMTA) or developing proof-of-concept solutions at the Bosch Rexroth Regional Training Centre (BRRTC).
To further support businesses in JID, Singapore Government has put in place various initiatives and schemes to help them grow. These include support for technology development, deployment of advanced manufacturing solutions, and the mapping of industry needs with training programs.
Ads, along with an artist's impression above showcase how the entire neighborhood will be clustered with facets of innovation and technology. For further reading into the project, please refer to JTC's JID homepage.
Who is JID?
JID is particularly focused on technological innovators — companies that are willing to push the boundaries of manufacturing and R&D. Not everyone has free access, as companies invited to JID are leaders and innovators in their respective fields. That is not to say that only technology companies are invited — as SATS food was just recently invited to set up operations in the district. Most importantly, one can always enquire JTC about openings within the district.
JID is designed to provide executives with a balanced lifestyle. Parks and many recreation centers are furnished across JID, allowing for cohabitation between work and livelihood, tailored specifically towards modern executive. Hence, many traditional companies seeking change, and startups alike — view JID as an avenue to develop further effectiveness in their respective fields.
Access to Top Tier Manpower
With joint collaboration between Nanyang technological university, Singapore Polytechnic and JID — companies can have access to top tier students that are at the forefront of innovation.
Under the NTU-JTC Advanced Manufacturing Programme, companies can hire valuable STEM interns for their technological needs. This not only provides exposure for undergraduates but also provides companies with the ability to measure the effectiveness of prospective talent. Providing much-needed assistance in the selection and grooming of engineers. Companies are therefore sheltered from increasing hiring costs.
Plan for the Future
A vast subterranean district logistics network (DLN) will improve the efficiency of freight transit in JID once it is finished. The DLN will be the first of its type in Singapore, using Automatic Guided Vehicles (AGVs) that would carry items to businesses' doorsteps through underground paths.
The benefits of having a below-ground DLN are numerous: not only does it lessen traffic congestion on the roadways, but it also allows for additional public spaces and facilities to benefit the community above-ground.
Over the next 18 months, Jurong Innovation District will create 1,200 new employment in advanced manufacturing, urban mobility, and urban solutions. The District will account for 4,500 employment, with another 3,300 jobs "relocated" when industries transfer their operations into the region.
Surbana Jurong, an urban and infrastructure consultancy business, and Shimano, a manufacturing factory, are among the first few enterprises relocating to the Jurong Innovation District.
Overall, JID is ideal for businesses looking to stay at the forefront of innovation and progress in a dynamic and vibrant environment. Whether you're developing cutting-edge technologies or seeking ways to improve your services, JID has all the resources that you need to succeed.
With more than 50 years of experience, SLS is a leading business enhancement solutions company providing mechanical systems, components and distributing high quality bearings, power transmission and related products. We provide value-added engineering services, products technical and maintenance training programs. Visit our website now or email us at contact.us@slsbearings.com.sg