Equipment that requires frictionless power transmission needs a specially chosen bearing that is able to handle its operations environment. The bearing selection process takes careful consideration at many angles all the way from the load type in the mechanical operation to the maintenance required to ensure its efficient running. As a bearing supplier in Singapore, SLS has everything you need to know about choosing the right bearing for your machine application, whether you need a frictionless transmission for HVAC, food processing and other critical applications.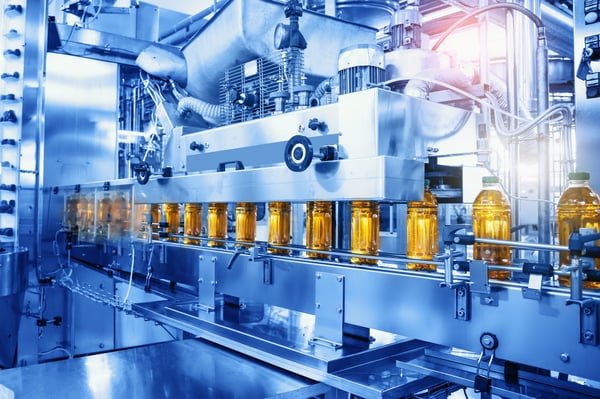 Here are the 7 deciding factors you should be aware of when selecting the correct bearing:


1. The Load Type
There are three load types you should be aware of before sourcing a bearing:
Radial Loads: Load forces that are perpendicular to the rotating shaft.

Axial Loads: Load forces that are parallel to the rotating shaft.

Combined Loads: Load forces are both radial and axial or interchangeable.

You must be aware of the load type as certain rolling elements, bearing materials and raceway rigidities are suited for specific applications. In addition to this, the load weight must be taken into consideration. Thrust bearings are best for taking radial and combined loads while linear bearings can take axial loads. More specifically, tapered roller bearings have the capability of withstanding both high radial and axial loads, making them suitable for applications in a wide range of industries.

2. The Transmissions Speed
With systems running at varied speeds, bearings must be able to withstand these varied speeds and varied temperatures to ensure maximised operations. Where high speeds are present, precision bearings must be in place as minor misalignments in installation or maintenance processes can lead to vibrations, temperature rise and later downtime as the wider components experience wear. Typically, higher rotational speeds (calculated at rotations per minute (RPM)) are best met with ball bearings while slower transmissions are best handled by roller elements.
3. The Component Temperature

The running and operational temperature of the overall equipment and mechanical device can vary, reaching highs of 350°C (660°F). This is an important consideration as the bearing material may buckle under heat stress; additionally, the lubricant may evaporate (where an oil-based lubricant is in use) and cause friction in the transmission. Some manufacturers have specially engineered their bearings to withstand high-temperature loads and transmissions. One such manufacturer is SKF Bearings and is a key source for components at your bearing supplier in Singapore.
4. The Lubricant Requirement
Bearings require a level of lubrication in the rolling element, cage and raceway to ensure the frictionless transmission of power between components is a continuous process. There are three types of lubricant you should be aware of. Each has its own benefits and properties to your machine equipment as well as its own application and maintenance requirements.
Petroleum or Synthetic Oil Lubricant
Dry Lubricant (Solid Film Lubricant)
To learn more about lubrication variances and which you should use in your bearings of choice, read our other article "The Importance of Lubrication in Bearings and Other Components".
5. The Bearing Sealant


Bearing sealant, also known as a retaining compound, is used to help reduce lubricant contamination and excess evaporation.
There are two core types, the first being an encasement known as a shield; this encasement is part of the bearing and is often manufactured using the same materials. However, these shields may also come in the form of a rubber seal where high load temperatures and speeds are not of the issue within the operation.
The other type is the retaining compound added to the shaft of the rotating component; when the bearing is applied, the inner ring will drag the even bead of a compound down the shaft to fill all imperfections in the assembly.
6. The Maintenance Program

There are three types of maintenance: preventive, predictive and reactive. All three are crucially used within operations to ensure continued running. However, where specific bearings are applied to your machine, renewed maintenance must be used. For example, bearings in the use of oil-based lubricants require higher frequency maintenance. Additionally, bearings sourced at a lower cost may need more predictive and preventive maintenance, causing a higher cost in the long term. Bearings sourced from trusted manufacturers such as SKF or INA Bearings will not need as much maintenance as unbranded bearings.
You can learn more about the difference between predictive and preventive maintenance here. It is also worth checking why proactive maintenance may be the most comprehensive system.
7. The Wider Environment
The final consideration in choosing the right bearing for your machine application from your bearing supplier is the environment of operations. In harsh environments, specific bearing materials, lubricants and shields must be employed in the transmission's module. There are 7 core materials used to manufacture bearings:
Carbon Steel
Ceramic
Chrome Steel
Hybrid Metals
Polymer Plastic
Stainless Steel
Stainless steel and chrome are the most common while ceramic bearings are high in hardness, anti-corrosive, durable, lightweight, high-temperature resistant, low in density with a lowered need for lubrication and maintenance.
For more information about bearing materials and their use in the wider environment, look at our article "The Different Types of Bearing Materials".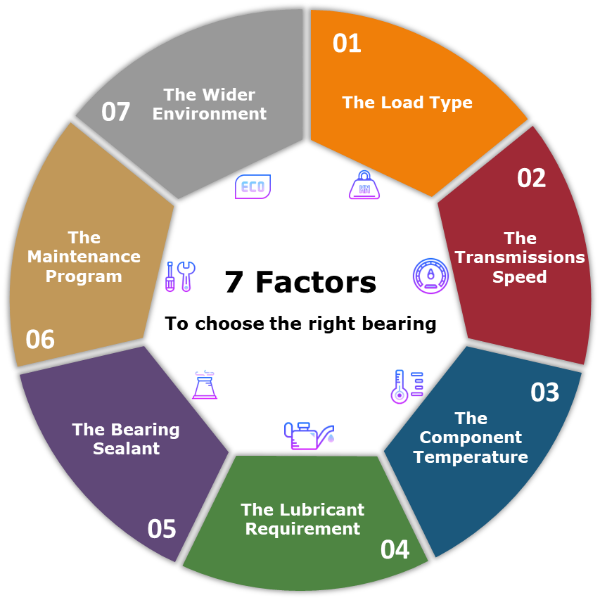 Infographic: 7 factors to choosing the right bearing

Although a bearing may seem a minor component to the wider scale of the mechanical application, it carries a crucial role. The frictionless transmission of power ensures the efficient running of the machine and where friction is incurred after selecting an incorrect bearing to suit the application, adjoining components may also be affected, causing costly downtime in the operation.