Plain Bearings Move Heavyweight Radial Gates

Customer Success Story

Maintenance-free spherical plain bearings from Schaeffler were the number one choice for a new dam construction project in Vietnam. They ensure that the 19 radial gates remain moveable, allowing the lock to be reliably opened and closed, despite high water pressure.


Advantages
Maintenance-free spherical plain bearings withstand high loads and temperature fluctuations.
Thanks to ELGOGLIDE no lubrication is necessary.
The bearings are characterized by a long service life and low friction.
An additional seal protects against contamination.
Holistic engineering support from Schaeffler.

Challenge
The Tra Khuc River Downstream Dam is located in Quang Ngai City, in Quang Ngai province, central Vietnam, approximately 900 km from Hanoi. The objective of the dam project is to regulate the water level of the Tra Khuc River in order to improve the environment in Quang Ngai City and create transportation waterways to the neighbouring cities. In the construction of the dam, 19 radial gates were integrated for water regulation. These moveable assemblies require high-performance and durable bearing designs. Water pressure and the weight of the lock act as a single-direction load on the spherical plain bearings, making it almost impossible to lubricate the bearings subjected to such load zones. Despite these extreme conditions, the lock gates must still be able to slide at low speeds to open and close the gates.
Technical Information about the dam
Length 947 m, height 5.5 m
Completion of dam in 2022, bearings installed in 2020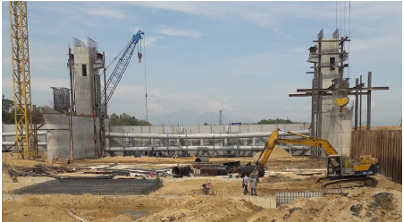 Additional Features
The dam consists of 19 river compartment gates, with a total length of 718.2 m.
Each compartment gate is 37.8 m long.
Four overflow chambers; the total width of the spillways is 143.8 m.
Bridges and roads on the dam have a total length of 974.2 m and a width of 12 m wide.
Solution
Schaeffler maintenance-free spherical plain bearings with ELGOGLIDE were chosen due to the ELGOGLIDE sliding layer in the outer ring. With this special sliding layer, the bearing does not require any lubrication and is able to withstand high loads, high-temperature fluctuations and is sealed from contaminants. In addition, the bearing is also able to provide low-friction and moment-free transfer of loads, making it an ideal bearing for the dam application.

Our Elgoglide brand uses high-performance, maintenance-free sliding materials that are based on Teflon fabric. Suitable for dynamic loads at contact pressures ranging from 1 to 3000 MPa, they are particularly appropriate for applications that require minimal friction.

Discover the power of maintenance-free Spherical Plain Bearings! Click below to learn more and experience unparalleled durability and performance in your industrial applications.


Schaeffler is one of the world's largest providers of rolling bearings, plain bearings, and linear technology. Leading manufacturers and operators in industry and they offer a technically perfect and economical solution for almost every application. With competent technical advice and a global sales network, they actively contribute to lowering total costs (TCO) for our customers.
**All images were derived from Schaeffler