When undergoing their predictive maintenance routine, engineers would often carry out condition-based monitoring such as vibration analysis to improve understanding of the machine condition and enhance the reliability of their equipment. But do you know there is also another type of condition-based monitoring that you can apply to your predictive maintenance solution? That's right, it is thermography.
What is Thermography?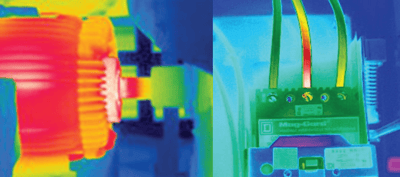 Thermography is one such solution whereby scanning the machine components such as panels, modules and cables remotely and observing the thermal gradients of the scanned image will give an idea of the functioning and performance of the equipment.
Why is Thermography Useful?
Vibration analysis detects machine faults by picking up vibration patterns from the machine to determine the root cause of equipment failures. However, there are mechanical or electrical faults that cannot be seen with the naked eyes, such as those that constitutes infrared.
Infrared is an invisible portion of the light spectrum that is invisible to human eyes but that we can feel as heat. All objects warmer than absolute zero will emit energy within the spectrum. The warmer the object, the brighter we see in an infrared thermal scanner.
With thermography, we can see immediately which component is problematic without dismantling machines and locate mechanical and electrical problems quickly and accurately. Furthermore, thermography is carried out without having direct contact with the equipment or component. Thus, It is a safe and reliable method that can be carried out while production is running.
Using Thermography in Various Applications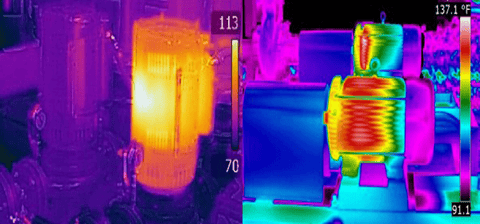 Thermography is used in a broad range of applications:
Electrical components which include power stations, transmission lines, grids, control panels, components and circuit boards
Mechanical equipment such as rotating equipment, sealing and conveyors,
Refractory lined Structures such as Furnaces
Medical such as body scans
Buildings such as heat leakages, dampness / mould, pipes and ducts
Choosing A Thermal Camera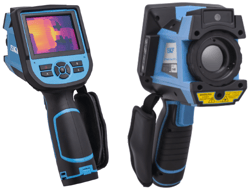 A thermal camera detects and troubleshoots electrical and mechanical defects. Thermal imaging converts invisible radiation into a visible picture by using sensors to convert the electronic signals into an easy to view picture.
Thermal cameras should be chosen with careful consideration bearing in mind of the applications. Some factors and functions that you should keep in mind are:
Hardware and software
Report generation, interfaces and connectivity
Accuracy and Resolution
Temperature range
Visual camera capabilities
In-camera edit function
Ergonomic design and user friendliness
Comments/ Notes/ Annotations features
Accessories/ Service/ Support/ Training


Tips For a Good Thermography Scanning

1. Use a camera with less noise and higher sensitivity
2. Auto-focus and laser pointer
3. Adjustable emissivity
4. Large screen with a huge memory size
A Real World Example

Most recently, a well-known F&B company had to shut down their plant for half a day, due to an unplanned failure in one of their control panels, which resulted in significant production loss. To prevent such incident from recurring again, our team carried out thermography inspection as part of the company's long-term predictive maintenance program by checking the condition of all operating electrical components to detect early problems.
Download a Free Copy of Our Thermography Case Study Here
A Few Factors to Look Out For

There are a few factors that can contribute to unexpected failure in an electrical equipment. To achieve an ideal outcome from your electrical component without having to turn the switch off (i.e letting it run), you should ensure that:
It is not overloaded
The loads are balanced and evenly distributed
Its cable Insulation is not damaged
Applying Thermography: A Long-Term Gain
Along with other condition-based monitoring activities, applying thermography to your long-term predictive maintenance solution will ensure that you benefit from achieving maximized equipment performance and increased productivity. By locating electrical and mechanical problems quickly and accurately, thermography inspection can prevent unplanned shut downs which lead to huge losses in production.
Have Questions About Thermography?

SLSPro provides specialized services for infrared thermography inspection and our team of experienced engineers are ready to help you with your long-term predictive maintenance solution. Get in touch with us today!
*All images were derived from SKF