While proper bearing mounting procedure is critical to the performance of bearings, the dismounting of bearings is of equal importance and full care must be taken not to damage other machine components. In this guide, we will learn about the different dismounting methods and the tools required for the bearing applications.
Eventually, the bearing will reach the end of its lifespan and will have to be replaced. Although the bearing may not be used again, it is crucial to dismount it in a proper manner so that the service life of the replacement bearing is not compromised. The use of correct dismounting methods and tools will help prevent damage to other machine components, such as the shaft and housing, which are often re–used. Furthermore, incorrect dismounting techniques provide a safety risk to the operator.


What is Dismounting?
Dismounting is the opposite process of bearing mounting; it refers to the removal of ball bearings from a component. Bearings are sometimes dismounted to maintain or replace other components of the machine. These bearings are often re-used.
Just like bearing mounting, there are several types of dismounting methods:
Dismounting Methods
1. Manual dismounting
From a cylindrical shaft seat
From an adapter sleeve
From a withdrawal sleeve
2. Dismounting with hydraulic assisted tools
3. Dismounting using oil injection method
4. Dismounting using heat

Safety precaution!
Always wear protective clothing and goggles when dismounting bearings.
Do not strike the bearing directly with any hard object such as a hammer or chisel.
1. Manual Dismounting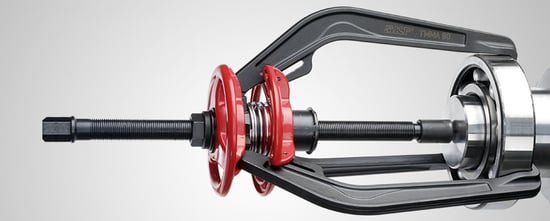 Manual dismounting is typically suitable for small size bearings. Pullers are often used for dismounting bearings. In general, it is recommended to use a three-arm puller rather than a two arm puller for better stability.
There are three types of manual dismounting:


i. From a Cylindrical Shaft Seat
To dislodge small bearings from a cylindrical shaft seat:

1. Clamp a puller onto the bearing.
2. Tighten the puller's grip by turning the puller's knot.
3. Lock the puller and fix the handle onto the puller.
4. Wrench the handle on the puller to loosen bearing.
5. Gently dismount the bearing.
Top Tip
Pullers are quite heavy and it might be difficult to manage alone, it is recommended to have one or more person by your side to help you out.
ii. From An Adapter Sleeve

To dismount small bearings fitted on an adapter sleeve and a plain shaft:
1. Loosen the sleeve lock nut a few turns.
2. Use a hammer of suitable size to tap a small steel block evenly around the bearing inner ring side face.


iii. From A Withdrawal Sleeve

To remove bearings from a withdrawal sleeve:
1. Release the lock nut or end plate.
2. Lubricate the withdrawal sleeve thread and the part of the lock nut that faces the bearing inner ring.
3. Tighten the lock nut until the withdrawal sleeve comes free.
4. Remove the withdrawal sleeve and bearing from the shaft.
2. Dismounting With Hydraulic Assisted Tools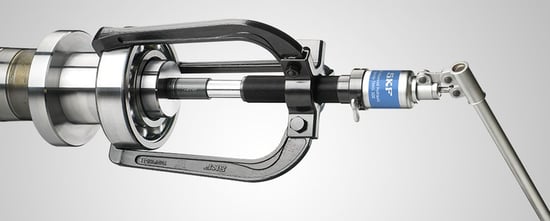 This technique uses hydraulic pumps and nuts to allow the application of substantial forces to dismount bearings or other components.
Tools: Hydraulic assisted puller sets are useful when dismounting small and medium bearings. Heavy-duty jaw pullers with hydraulic assistance can be used for dismounting large bearings (with an outside diameter up to 500 mm).
3. Dismounting With Oil Injection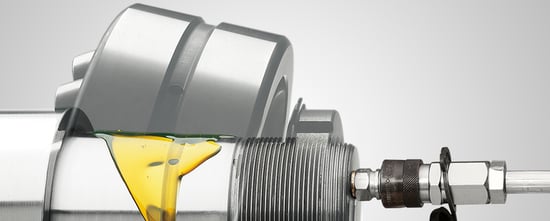 This method injects oil under high pressure between two mating surfaces through a supply duct and a distribution groove. The mating surfaces are separated by a thin film of oil injected under high pressure, thereby virtually eliminating the friction between them. This technique is best to use for large bearings mounted on either cylindrical or tapered seating.
How to dismount with oil injection?:
1. Undo the lock nut a couple of turns, but do not remove it from the shaft end.

2. Inject dismounting fluid (an oil-based, mineral solution that contains anti-corrosives) through the supply duct and the distribution groove in the shaft.
3. The bearing is then ejected from the seating with force.
Top Tip
When applying this method on a tapered shaft, a stop-nut must be used to control the ejection of the bearing.
4. Dismounting Using Heat
The inner ring of cylindrical roller bearings generally have a tight interference fit, which require high forces to dismount. In this case, using a puller can cause damage to the shaft and the ring. Using heating equipment enables quick and safe dismounting of bearings and reduces the risk of damage to the ring and the shaft. The two common type of heating equipment are:

i. Aluminum heating rings: Used on the inner rings of small and medium-sized cylindrical roller bearings.
ii. Induction heater: Suitable for frequent dismounting of various sizes of cylindrical roller bearing inner rings.
Bearing Dismounting Methods Overview
| | | | |
| --- | --- | --- | --- |
| | Bearing Size | Bearing Bore | Tools Used |
| Mechanical | Small | Cylindrical | Puller, Spanner, Lubricant Hammer |
| Hydraulic Assisted Tools | Small, Medium, Large | Cylindrical | Hydraulic Assisted Puller, Hydraulic Nut and Pump |
| Oil-Injection | Large | Cylindrical/Tapered | Oil-Injector, Stop-nut, Puller |
| Heat Equipment | Small, Medium, Large | Cylindrical | Aluminum Heating Rings or Induction Heater, Gloves |
Individual applications may require different dismounting methods and tools to allow safe, correct and efficient bearing dismounting. Our team of experienced engineers are here to assist you with professional consultation and recommendations for proper dismounting to maximize your machine's efficiency and lifetime. Book your free consultation with us today.


**All images were derived from SKF