The Schaeffler Group has been producing and selling a variety of high-quality plain bearings under the INA brand for over 75 years. This includes plain bushings with ELGOGLIDE and ELGOTEX as well as metal-polymer composite plain bearings. In addition, there is the tried and tested range of spherical plain bearings and rod ends, which has been the driving force behind plain bearing technology for decades. Customers not only value the extensive technology portfolio but, first and foremost, their expert advice. Schaeffler's products are an equally convincing success in both standardised applications and in project-related solutions that they develop in conjunction with their business partners.

Schaeffler plain bearings stand for certified reliability – they are subject to repeated qualifications and optimizations at in-house test laboratories and by external institutions. The result? Quality Products and Expert Application Advice - all from a single source.
Spherical Plain Bearings & Rod Ends
From Requiring Maintenance to Maintenance-Free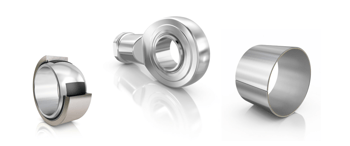 Spherical plain bearings and rod ends from Schaeffler enhances the performance of machines, systems, vehicles and devices. Durable and capable of supporting heavy loads, they ensure stable and reliable operation – even in the most demanding conditions.
Spherical Plain Bearings (Requiring Maintenance)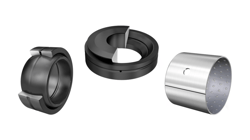 Spherical plain bearings that require maintenance comprise a steel/steel or steel/bronze sliding contact surface. These bearings require lubrication to prevent metallic contact that potentially causes any wear & tear to the bearings.

Spherical Plain Bearings (Maintenance-Free)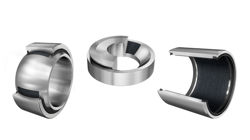 Under the ELGOGLIDE brand, we provide high-performance, maintenance-free sliding materials based on PTFE fabric. These are particularly suitable for applications where minimal friction is required. For the small diameter range, we offer maintenance-free spherical plain bearings with a PTFE-based composite material as the sliding material.
Rod Ends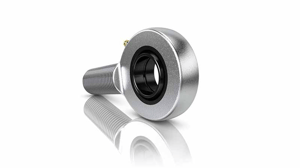 In addition to spherical plain bearings, Schaeffler also offers a wide range of rod ends that features:
- Maintenance-free and requiring maintenance
- Internal and external threads
- Corrosion protection
- Clamping and welding facility
Special Application-Specific Solutions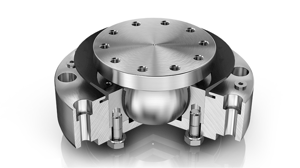 In close development partnerships with our customers from over 60 industrial sectors, we are constantly developing new solutions which are subsequently offered as catalogue products. These are often ready-to-fit components or complete assemblies. The surrounding structure is taken into consideration from the very beginning of the development process so that expensive changes to the adjacent construction are no longer necessary and the overall solution is cost-effective for the customer. A wide range of the Schaeffler Group's technical expertise is incorporated in the development of special solutions, for example:
Materials and surfaces:
If plain bearings are to be used in corrosive media, we work with special materials and our own coatings developed inhouse, such as Corrotect.
Sealing concepts:
For heavily contaminated environments, we offer RS/TS seals to complement our plain bearings.
Condition monitoring:
Condition monitoring is a reliable method of detecting system damage at an early stage and avoiding unplanned downtimes. Discover the most suitable monitoring solution for your system.

Discover the power of E-Series Spherical Plain Bearings! Click below to learn more and experience unparalleled durability and performance in your industrial applications.


Schaeffler is one of the world's largest providers of rolling bearings, plain bearings, and linear technology. Leading manufacturers and operators in industry and they offer a technically perfect and economical solution for almost every application. With competent technical advice and a global sales network, they actively contribute to lowering total costs (TCO) for our customers.
**All images were derived from Schaeffler